[fusion_builder_container hundred_percent="yes" overflow="visible"][fusion_builder_row][fusion_builder_column type="1_1″ background_position="left top" background_color="" border_size="" border_color="" border_style="solid" spacing="yes" background_image="" background_repeat="no-repeat" padding="" margin_top="0px" margin_bottom="0px" class="" id="" animation_type="" animation_speed="0.3″ animation_direction="left" hide_on_mobile="no" center_content="no" min_height="none"]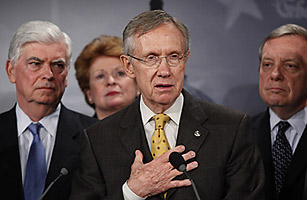 Hewitt prepared a report at the request of the Business Round Table to evaluate health care reform through the lens of the private sector and to project the likely effect of proposed legislative changes on employer health care costs.
This report addresses four key questions:
Of the reform initiatives currently being considered that intend to curb the rate of health care cost growth, which ones are likely to have a significant impact on the health care economy at large?
What missing ingredients should be added to current proposals to enhance their potential to reduce future cost trends?
What are the risks that could undermine the realization of these cost savings?
What can be done longer-term to restructure the current health care delivery system in order to reduce annual health care cost trend to a sustainable rate, such as the overall rate of GDP growth (approximately 4% per year)?
Current Legislation Provides Opportunities for Savings, Risks Could Jeopardize Cost Reductions
Risks identified in the report include:
Delayed or watered-down implementations;
Future legislative reversals of potential cost-saving provisions;
Continuation of the practice and related costs of defensive medicine and the cost to providers of malpractice insurance;
Failure to implement a strong individual mandate to minimize cost increases in the health insurance exchange plans due to adverse selection;
Unintended consequences as health plans take steps to keep the cost of health coverage below the threshold for the proposed excise tax on high-cost plans or as employers are unable to live within the cap as it gets relatively tighter over time;
Increases in the cost of health care to individuals from changes to flexible spending arrangements or actions that discourage consumer-engaged decision making; and
Cost shifting to the private sector from reductions in federal reimbursements to providers and from a public plan option if included.
Federal
The battle over health care reform entered a new phase after a critical Senate vote Saturday night. Senators cleared the way for floor debate by a vote of 60 to 39. They needed at least 60 votes to prevent a filibuster.  "We can only see the finish line; we have not yet crossed it," said Senate Majority Leader Harry Reid. "The road ahead will be the toughest stretch."
The Republicans are promising the road will be a long one.
"The Senate's not like the House," said Minority Leader Mitch McConnell. "They had three votes on one day and it was over."
Senate debates can take weeks. Reid will need 60 votes again to actually pass the final version of the bill. It could look very different after senators add amendments.
And he's got to win over some of his own party to do it.
"If there are a whole host of other items that are the same as they are right now, I wouldn't vote to get it off the floor," said Sen. Ben Nelson, D-Neb., a centrist Democrat who has pushed back against the reform effort.
States
NEW YORK: The legislature passed a bill that prohibits all subrogation (collateral source or third party) recoveries by an insurer for medical expenses. The former collateral source rule eliminated the windfall of double recoveries by plaintiffs who receive medical benefits and win recoveries from defendant payments. The old rule of law allowed insurance companies to offset potential premium increases to consumers by authorizing them to recover medical costs from payments made to an injured plaintiff from a jury award or settlement. With that option no longer available, insurance premiums in New York will be further stressed.
In addition, Governor Paterson and the hospital sector are proposing that the current Patient Services Assessment (PSA) of 9.63 percent be increased by 0.25 percent to generate an additional $54 million as part of the Governor's second Deficit Reduction plan (DRP) for 2009. The hospitals are advocating for this insurance tax increase to offset some of the governor's proposed Medicaid cuts on hospitals. The $800 in insurance taxes adopted this year already includes an increase in the PSA, and the new proposal would make the latest increase retroactive to November 1, clearly not included in premium increases for 2010. The legislature is set to return to the Capitol for two more special session days to address the DRP.
NEW JERSEY: The governor has directed state departments and agencies to collectively cut $400 million from the state budget due to state revenue collection falling well short of budget projections. Furthermore, the Governor requested that the legislature not pass any spending bills during the upcoming "lame duck" session. This nearly half-a-billion dollar shortfall, coupled with a projected $8 billion budget deficit for next fiscal year, puts the state in dire fiscal straits. With options limited for making up the lost revenue, businesses operating in the state will be closely monitoring this developing situation.
ILLINOIS: A leader in the Senate has pre-filed a bill to amend Illinois' HIPAA law with a proposal that group and individual health insurance carriers be prohibited from imposing any pre-existing condition exclusions. Current limitations imposed by state law would be deleted. While the issue is being discussed on the federal level, this issue has had a lot of traction with both House and Senate Insurance Committee members for the past six months. As amended, the current proposal may not meet current federal HIPAA requirements. The bill will not be considered until January 2010.
MICHIGAN The Office of Financial and Insurance Regulation (OFIR) has scheduled a hearing on November 23 to review Blue Care Network's proposal to buy Physicians Health Plan. In late September, Blue Care Network, a Michigan nonprofit HMO, filed a statement with OFIR regarding its intention to acquire control or merge with Physicians Health Plan of Mid-Michigan-Family Care and PHPMM Insurance Company. OFIR has 90 days to review the statement. Various parties have requested that OFIR conduct public hearings before making a decision on the sale, due to concerns raised regarding the size of the Blue Cross Blue Shield of Michigan.
OKLAHOMA: Two Republican State Senators are sounding the alarm bell regarding both U.S. House and Senate versions of health care reform, charging that either would devastate at least one new health care facility in Oklahoma City and cost Oklahoma County and the surrounding area more than 500 jobs. State Sen. Jim Reynolds and Sen. Harry Coates say both bills would devastate many top-quality health care facilities, including   Oklahoma Heart Hospital's $98 million South Campus, which is set to open soon.
The bills would financially undermine the facility by denying the facility federal reimbursement for services such as Medicare and Medicaid. A joint venture of Mercy Hospital, Midwest City Regional and a group of local physicians, the facility will serve much of southeast Oklahoma County along with hundreds of active-duty military and veterans. Both Sen. Coates and Sen. Reynolds say they will ask Gov. Brad Henry to intercede quickly to remove the onerous provisions.
UTAH: The Department of Insurance is circulating a draft bill to amend the state's uniform electronic standards law to require insurers to provide coverage eligibility and detailed coordination of benefits information to physicians. Large payors will be submitting comments, including the fact that an insurer is not the repository of each member's applicable insurance coverage information and that a July 1, 2010, effective date does not allow sufficient time for implementation.[/fusion_builder_column][/fusion_builder_row][/fusion_builder_container]