Medicare LCD and Local Coverage Determinations
What is a Medicare LCD?
Social Security Act (the Act) Section 1869(f)(2)(B) defines Medicare Local coverage determinations (LCDS). This section provides:
"For purposes of this section, the term 'local coverage determination' means a determination by a fiscal intermediary [comment: also known as a Medicare Administrative Contractor, or 'MAC'] or a carrier under [Medicare] part A or part B, as applicable, respecting whether or not a particular item or service is covered on an intermediary- or carrier-wide basis under such parts, in accordance with section 1862(a)(1)(A)."
What is a Medicare NCD?
Medicare National Coverage Determinations or Medicare NCDs set national policy in a broad way.  NCDs are supposed to be 'evidence-based,' meaning that they are based on objective medical data.  CMS uses "MEDCAC" to do this.  The Medicare Evidence Development & Coverage Advisory Committee (MEDCAC) was established to provide independent guidance and expert advice to CMS on specific clinical topics.
Medicare LCD Modernization
The U.S. Office of the Inspector General (OIG) has pointed out that LCDs have been inconsistent and sometimes conflicting.
As a result, the Centers for Medicare and Medicaid Services (CMS) started an LCD modernization process.  CMS has revised the Medicare Program Integrity Manual (PIM), Chapter 13 – Local Coverage Determinations (Pub 100-08).
Medicare Administrative Contractors (or 'MACs) have the authority and responsibility to develop LCDs for their jurisdictions.  CMS also intends that LCDs are consistent between all MACs and all jurisdictions and expects that MACs meet and confer regarding these consistencies prior to publication of an LCD.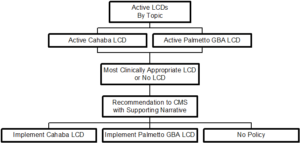 The new process is intended to provide greater transparency, consistency and patient engagement, as well as support larger CMS innovation initiatives. The revised PIM guides stakeholders by describing the process, what to expect, and how to provide feedback to MACs. It also clarifies CMS's expectations for MACs.
For example, the new PIM provides the following component of its process before a Medicare LCD is finalized.
"After the proposed LCD is made public, MACs shall hold open meetings to discuss the review of the evidence and the rationale for the proposed LCD(s) with stakeholders in their jurisdiction. The open meeting should endeavor to accommodate some in-person attendance, subject to limitations based on venue. Interested parties (generally those that would be affected by the LCD, including providers, physicians, vendors, manufacturers, beneficiaries, caregivers, etc.) can make presentations of information related to the proposed LCDs"
How Do you Find a Medicare LCD for Your Jurisdiction?
The Medicare Administrative Contractors are listed below as of October 2021 by State, Jurisdiction, and the name of the MAC:
State
Jurisdiction (J)
Medicare Administrative Contractor (MAC)
Alabama
DME MAC – JC
CGS Administrators, LLC
A/B MAC – JJ
Palmetto GBA, LLC
HH + H MAC – JM
Palmetto GBA, LLC
Alaska
DME MAC – JD
Noridian Healthcare Solutions, LLC
A/B MAC – JF
Noridian Healthcare Solutions, LLC
HH+ H MAC – J6
National Government Services, Inc.
American Samoa
DME MAC – JD
Noridian Healthcare Solutions, LLC
A/B MAC – JE
Noridian Healthcare Solutions, LLC
HH + H MAC – J6
National Government Services, Inc.
Arizona
DME MAC – JD
Noridian Healthcare Solutions, LLC
A/B MAC – JF
Noridian Healthcare Solutions, LLC
HH + H MAC – J6
National Government Services, Inc.
Arkansas
DME MAC – JC
CGS Administrators, LLC
A/B MAC – JH
Novitas Solutions, Inc.
HH + H MAC – JM
Palmetto GBA, LLC
California
DME MAC – JD
Noridian Healthcare Solutions, LLC
A/B MAC – JE
Noridian Healthcare Solutions, LLC
HH + H MAC – J6
National Government Services, Inc.
Colorado
DME MAC – JC
CGS Administrators, LLC
A/B MAC – JH
Novitas Solutions, Inc.
HH + H MAC – J15
CGS Administrators, LLC
Connecticut
DME MAC – JA
Noridian Healthcare Solutions, LLC
A/B MAC – JK
National Government Services, Inc.
HH + H MAC – JK
National Government Services, Inc.
Delaware
DME MAC – JA
Noridian Healthcare Solutions, LLC
A/B MAC – JL
Novitas Solutions, Inc.
HH + H MAC – J15
CGS Administrators, LLC
District of Columbia
DME MAC – JA
Noridian Healthcare Solutions, LLC
A/B MAC – JL
Novitas Solutions, Inc.
HH + H MAC – J15
CGS Administrators, LLC
Florida
DME MAC – JC
CGS Administrators, LLC
A/B MAC – JN
First Coast Service Options, Inc.
HH + H MAC – JM
Palmetto GBA, LLC
Georgia
DME MAC – JC
CGS Administrators, LLC
A/B MAC – JJ
Palmetto GBA, LLC
HH + H MAC – JM
Palmetto GBA, LLC
Guam
DME MAC – JD
Noridian Healthcare Solutions, LLC
A/B MAC – JE
Noridian Healthcare Solutions, LLC
HH + H MAC – J6
National Government Services, Inc.
Hawaii
DME MAC – JD
Noridian Healthcare Solutions, LLC
A/B MAC – JE
Noridian Healthcare Solutions, LLC
HH + H MAC – J6
National Government Services, Inc.
Idaho
DME MAC – JD
Noridian Healthcare Solutions, LLC
A/B MAC – JF
Noridian Healthcare Solutions, LLC
HH + H MAC – J6
National Government Services, Inc.
Illinois
DME MAC – JB
CGS Administrators, LLC
A/B MAC – J6
National Government Services, Inc.
HH + H MAC – JM
Palmetto GBA, LLC
Indiana
DME MAC – JB
CGS Administrators, LLC
A/B MAC – J8
Wisconsin Physicians Service Government Health Administrators
HH + H MAC – JM
Palmetto GBA, LLC
Iowa
DME MAC – JD
Noridian Healthcare Solutions, LLC
A/B MAC – J5
Wisconsin Physicians Service Government Health Administrators
HH + H MAC – J15
CGS Administrators, LLC
Kansas
DME MAC – JD
Noridian Healthcare Solutions, LLC
A/B MAC – J5
Wisconsin Physicians Service Government Health Administrators
HH + H MAC – J15
CGS Administrators, LLC
Kentucky
DME MAC – JB
CGS Administrators, LLC
A/B MAC – J15
CGS Administrators, LLC
HH + H MAC – JM
Palmetto GBA, LLC
Louisiana
DME MAC – JC
CGS Administrators, LLC
A/B MAC – JH
Novitas Solutions, Inc.
HH + H MAC – JM
Palmetto GBA, LLC
Maine
DME MAC – JA
Noridian Healthcare Solutions, LLC
A/B MAC – JK
National Government Services, Inc.
HH + H MAC – JK
National Government Services, Inc.
Maryland
DME MAC – JA
Noridian Healthcare Solutions, LLC
A/B MAC – JL
Novitas Solutions, Inc.
HH + H MAC – J15
CGS Administrators, LLC
Massachusetts
DME MAC – JA
Noridian Healthcare Solutions, LLC
A/B MAC – JK
National Government Services, Inc.
HH + H MAC – JK
National Government Services, Inc.
Michigan
DME MAC – JB
CGS Administrators, LLC
A/B MAC – J8
Wisconsin Physicians Service Government Health Administrators
HH + H MAC – J6
National Government Services, Inc.
Minnesota
DME MAC – JB
CGS Administrators, LLC
A/B MAC – J6
National Government Services, Inc.
HH + H MAC – J6
National Government Services, Inc.
Mississippi
DME MAC – JC
CGS Administrators, LLC
A/B MAC – JH
Novitas Solutions, Inc.
HH + H MAC – JM
Palmetto GBA, LLC
Missouri
DME MAC – JD
Noridian Healthcare Solutions, LLC
A/B MAC – J5
Wisconsin Physicians Service Government Health Administrators
HH + H MAC – J15
CGS Administrators, LLC
Montana
DME MAC – JD
Noridian Healthcare Solutions, LLC
A/B MAC – JF
Noridian Healthcare Solutions, LLC
HH + H MAC – J15
CGS Administrators, LLC
Nebraska
DME MAC – JD
Noridian Healthcare Solutions, LLC
A/B MAC – J5
Wisconsin Physicians Service Government Health Administrators
HH + H MAC – J15
CGS Administrators, LLC
Nevada
DME MAC – JD
Noridian Healthcare Solutions, LLC
A/B MAC – JE
Noridian Healthcare Solutions, LLC
HH + H MAC – J6
National Government Services, Inc.
New Hampshire
DME MAC – JA
Noridian Healthcare Solutions, LLC
A/B MAC – JK
National Government Services, Inc.
HH + H MAC – JK
National Government Services, Inc.
New Jersey
DME MAC – JA
Noridian Healthcare Solutions, LLC
A/B MAC – JL
Novitas Solutions, Inc.
HH + H MAC – J6
National Government Services, Inc.
New Mexico
DME MAC – JC
CGS Administrators, LLC
A/B MAC – JH
Novitas Solutions, Inc.
HH + H MAC – JM
Palmetto GBA, LLC
New York
DME MAC – JA
Noridian Healthcare Solutions, LLC
A/B MAC – JK
National Government Services, Inc.
HH + H MAC – J6
National Government Services, Inc.
North Carolina
DME MAC – JC
CGS Administrators, LLC
A/B MAC – JM
Palmetto GBA, LLC
HH + H MAC – JM
Palmetto GBA, LLC
North Dakota
DME MAC – JD
Noridian Healthcare Solutions, LLC
A/B MAC – JF
Noridian Healthcare Solutions, LLC
HH + H MAC – J15
CGS Administrators, LLC
Northern Mariana Islands
DME MAC – JD
Noridian Healthcare Solutions, LLC
A/B MAC – JE
Noridian Healthcare Solutions, LLC
HH + H MAC – J6
National Government Services, Inc.
Ohio
DME MAC – JB
CGS Administrators, LLC
A/B MAC – J15
CGS Administrators, LLC
HH + H MAC – JM
Palmetto GBA, LLC
Oklahoma
DME MAC – JC
CGS Administrators, LLC
A/B MAC – JH
Novitas Solutions, Inc.
HH + H MAC – JM
Palmetto GBA, LLC
Oregon
DME MAC – JD
Noridian Healthcare Solutions, LLC
A/B MAC – JF
Noridian Healthcare Solutions, LLC
HH + H MAC – J6
National Government Services, Inc.
Pennsylvania
DME MAC – JA
Noridian Healthcare Solutions, LLC
A/B MAC – JL
Novitas Solutions, Inc.
HH + H MAC – J15
CGS Administrators, LLC
Puerto Rico
DME MAC – JC
CGS Administrators, LLC
A/B MAC – JN
First Coast Service Options, Inc.
HH + H MAC – J6
National Government Services, Inc.
Rhode Island
DME MAC – JA
Noridian Healthcare Solutions, LLC
A/B MAC – JK
National Government Services, Inc.
HH + H MAC – JK
National Government Services, Inc.
South Carolina
DME MAC – JC
CGS Administrators, LLC
A/B MAC – JM
Palmetto GBA, LLC
HH + H MAC – J M
Palmetto GBA, LLC
South Dakota
DME MAC – JD
Noridian Healthcare Solutions, LLC
A/B MAC – JF
Noridian Healthcare Solutions, LLC
HH + H MAC – J15
CGS Administrators, LLC
Tennessee
DME MAC – JC
CGS Administrators, LLC
A/B MAC – JJ
Palmetto GBA, LLC
HH + H MAC – JM
Palmetto GBA, LLC
Texas
DME MAC – JC
CGS Administrators, LLC
A/B MAC – JH
Novitas Solutions, Inc.
HH + H MAC – JM
Palmetto GBA, LLC
Utah
DME MAC – JD
Noridian Healthcare Solutions, LLC
A/B MAC – JF
Noridian Healthcare Solutions, LLC
HH + H MAC – J15
CGS Administrators, LLC
Vermont
DME MAC – JA
Noridian Healthcare Solutions, LLC
A/B MAC – JK
National Government Services, Inc.
HH + H MAC – JK
National Government Services, Inc.
Virgin Islands
DME MAC – JC
CGS Administrators, LLC
A/B MAC – JN
First Coast Service Options, Inc.
HH + H MAC – J6
National Government Services, Inc.
Virginia
DME MAC – JC
CGS Administrators, LLC
A/B MAC – JL
Novitas Solutions, Inc.
(includes Part B for counties of Arlington and Fairfax, and the city of Alexandria)
A/B MAC – JM
Palmetto GBA, LLC
(excludes Part B for the counties of Arlington and Fairfax, and the city of Alexandria)
CGS Administrators, LLC
HH + H MAC – J15
Washington
DME MAC – JD
Noridian Healthcare Solutions, LLC
A/B MAC – JF
Noridian Healthcare Solutions, LLC
HH + H MAC – J6
National Government Services, Inc.
West Virginia
DME MAC – JC
CGS Administrators, LLC
A/B MAC – JM
Palmetto GBA, LLC
HH + H MAC – J15
CGS Administrators, LLC
Wisconsin
DME MAC – JB
CGS Administrators, LLC
A/B MAC – J6
National Government Services, Inc.
HH + H MAC – J6
National Government Services, Inc.
Wyoming
DME MAC – JD
Noridian Healthcare Solutions, LLC
A/B MAC – JF
Noridian Healthcare Solutions, LLC
HH + H MAC – J15
CGS Administrators, LLC
Related Topics
Medicare LCD and Rule Making Modernization
Medical Billing Expert Witness
Medical Coding Expert Witness
Medicare LCD Coverage Database
Merit-Based Incentive Program (MIPS)