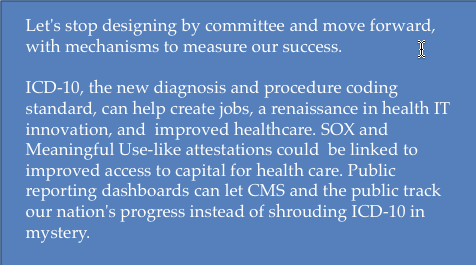 We Sent This Letter to CMS
The Honorable Kathleen Sebelius, Secretary
U.S. Department of Health and Human Services, Centers for Medicare & Medicaid Services
Baltimore, Maryland 21244–1850
Attention: CMS–0040–P, P.O. Box 8013, Baltimore, MD 21244–8013
Submitted 5/17/2012 via the Federal Regulations Web Portal, http://www.regulations.gov
Dear Secretary Sebelius:
We are writing to share our comments about the notice of proposed rulemaking (NPRM) regarding Administrative Simplification: Adoption of a Standard for a Unique Health Plan Identifier; Addition to the National Provider Identifier Requirements; and a Change to the Compliance Date for ICD–10–CM and ICD–10–PCS Medical Data Code Sets (45 CFR Part 162).
No World Borders (http://noworldborders.com) is a U.S. based employer and leading consulting firm specializing in ICD-10 Assessments for health plans, health care providers, and other HIPAA Covered Entities.  We help clients achieve Meaningful Use of Electronic Health Records, understand ways to comply with and gain strategic advantage from the HITECH Act, PPACA, and Accountable Care Organizations.   We also advise prospective healthcare investors on healthcare IT opportunities.
The  health care industry has known for over 15 years that the outdated ICD-9 code set would replaced by ICD-10 CM and ICD-10 PCS.  We do not support a delay in the ICD-10 implementation date.  The delay hurts not only those who have invested dutifully to meet the CMS mandate on time, but it hurts independent contractors, small businesses, and Healthcare IT vendors who fill the knowledge gap in Covered Entities who don't have the staff internally to meet this mandate.  Clearly ICD-10 is a healthcare mandate and healthcare should first and foremost be about the patient.  However, having a healthy economy of private sector vendors in multiple disciplines will be essential for a successful transition to ICD-10.  After spending several years in this specialty, I have yet to meet a health plan or provider that had all of the skills necessary to transition to ICD-10 on their payroll.
At the same time, we are sympathetic to the challenges of small providers and others with limited capabilities to implement ICD-10.  Providers serve patients, and unfortunately I believe as a group, small practices and primary care physicians feel especially disenfranchised by the ICD-10 mandate.
Therefore, our suggestions herein are primarily focused on ways of creating additional incentives and jobs for our economy, engaging physicians, and improving the road map for the healthcare industry to successfully implement ICD-10.
ICD-10 Implementations – Payors and Providers
As a vendor, we have a unique perspective because we serve both payors and providers and we have observed their behavior regarding ICD-10 since August 2008 when ICD-10 was first mandated:
A clear, non-tentative message to the healthcare industry that ICD-10 is forthcoming creates jobs and stimulates our economy. Many entities are not using the extra time responsibly, adding to the delay.  Pending Healthcare Consulting firm consulting contracts for Q1 2012 were delayed for ICD-10 Assessments, and we have heard this throughout the industry from other vendors. Let's start looking at ICD-10 like the New Deal and Infrastructure instead of an un-funded mandate.
There seems to be no correlation among providers relative to those who are on time or behind schedule for ICD-10 by size, geography, or the demographics of the population they serve.
Some of the largest and best-respected brand names among both health care payors and providers are on time, and others just miles away in the same market have done nothing to comply.
The Director of Regulatory Compliance for a $1 billion hospital system in the southeast stated recently that they had 250 consultants billing full-time implementing their Electronic Medical Record system and attaining Meaningful Use, but had done "absolutely nothing" on ICD-10.  This is ironic since incentives for EMRs really create the containers for which ICD-10 codes must be stored.  EMR vendors are gorging at the feeding trough of stimulus dollars.  In other words, ICD-10, which provides a standard for the patient content that populates the EMR, has no stimulus funds tied to it.
A senior IT manager in a large health plan in the northeast said they were doing nothing for ICD-10 compliance because they hoped to outsource the entire process of processing claims.
The only correlations between ICD-10 implementation timing seem to be:
The level of ICD-10 education among decision makers of the entity
The financial resources of the entity
Whether there is a team within the entity that has a road map of where to start implementing ICD-10 for their organization
Summary of ICD-10 Recommendations
Since it now appears likely that there will be a delay, we respectfully submit the following comments and suggestions:
Limit the delay to one year.
Require a mandatory testing period and foster private sector test data and testing as a service companies.
Do not re-invent the wheel designing a certification program if that program causes an additional delay, instead use existing best practices, such as an updated WEDI/ NCHICA timeline.
Look to other programs such as Meaningful Use and Sarbanes Oxley to learn from history.
Create a mechanism to provide attestation to ICD-10 compliance, similar to SOX attestation or attestation to Meaningful Use.
Enable risk indicators to be useful as ways to assess the feasibility of extending access to capital for healthcare payors and providers and insurance against risk.
Map ICD-10 activities to jobs in the private sector.  More jobs would likely mean more member premiums to health plans, and to help a return to pre recession levels of primary care physician visits.
Provide a more transparent set of incentives, penalties and milestones, and use the milestones as attestation landmarks for HIPAA Covered Entities and reporting for those milestones to the public.
Dispel the myths about crosswalks– in particular do not endorse a central, national cross walking program unless people know the limitations of cross walking.  In particular there should be no single crosswalk that enhances GEMs with one to one mapping forward and backward. ICD-10 creates many to many mappings. Rather health plans should build rules and medical policy and ensure their use of ICD-10 supports that policy.  Engage private sector companies to assist.
We cannot afford to wait for ICD-11

[fusion_builder_container hundred_percent="yes" overflow="visible"][fusion_builder_row][fusion_builder_column type="1_1″ background_position="left top" background_color="" border_size="" border_color="" border_style="solid" spacing="yes" background_image="" background_repeat="no-repeat" padding="" margin_top="0px" margin_bottom="0px" class="" id="" animation_type="" animation_speed="0.3″ animation_direction="left" hide_on_mobile="no" center_content="no" min_height="none"][1]

or SNOMED, as appealing as these standards may be.
Don't stagger ICD-10 implementation dates for different sectors of the healthcare industry.  Instead use milestones and testing periods as noted herein and by others who have submitted public comments.
While it is a necessity to have overlapping initiatives such as Meaningful Use and ICD-10, educate providers about the synergies. For example, EMRs can and should provide the container for ICD-10 codes, yet according to the AAPC, a significant percentage of these systems are not capable of storing ICD-10 specificity today.  Engage private sector firms to assist with this task.
Design physician, coder, and healthcare executive engagement programs via private sector companies.  Engage private sector firms to assist with this task.
Provide mechanisms to enable private sector entrepreneurs and other businesses to create solutions, software, risk management and reinsurance against risk for ICD-10 in an open, competitive field.  Reconsider sole-source HHS contracts that prevent healthy private sector competition and innovation.
Extend the ability of health plans to account for ICD-10 conversion costs of up to 0.3 percent of an issuer's earned premium in the relevant State market to be considered quality improvement activities, for 2012, 2013, and 2014 MLR reporting years.  Enable health plans to pay, at their discretion, a portion of the ICD-10 conversion cost for MLR calculations to providers as an incentive for meeting ICD-10 collaborative milestones (testing, physician engagement, etc.).
Adopt ONC strategies for Interoperability; educate the industry about Integration Platforms as a Service (IPaaS) for healthcare to assist in remediating or replacing IT systems in HIPAA Covered Entities.
As long as the OEID is voluntary it will be of limited utility.
Why ICD-10 Implementations Aren't Moving Faster

There is a lack of alignment in incentives and risks of implementing or not implementing ICD-10.  Health plans have what one could call regulated consequences for not complying with ICD-10 in the form of fines.  Health care providers have natural consequences for not complying including a risk that their claims may not get paid.
There is a lack of a clear road map that maps to benefits and risk mitigation – ICD-10 has no clear milestones that are tied to benefits or penalties except for the single go-live date today.
The industry is still confused about what steps to take to comply.
Financial executives in health plans and hospitals are still having a difficult time mapping activities and expenditures to financial benefits and risks.
Benefits articulated by the healthcare industry are admirable and important long-term, but they are intangible to financial decision makers who today are holding back on ICD-10 spending, and therefore they aren't enough, namely

[2]

:
Inaccurate decisions or conclusions based on faulty or imprecise data

Administrative inefficiencies due to reliance on manual processes
Coding errors related to code ambiguity and outdated terminology
Worsening imprecision in the ICD-9-CM code set due to the inability of the structure to adequately accommodate requested modifications
Ongoing maintenance of both the ICD-9-CM and ICD-10 code sets

There is misinformation.  Some retiring physicians, or those who support the AMA lobby for a delay to ICD-10 at all costs, were not vocal when ICD-10 was mandated in 2008, nor were they participants during the CMS NPRM  before the 2008 mandate for ICD-10 when the industry could have benefitted from their input.  Unfortunately, now that the real cost and transition to ICD-10 nears, these groups have organized to provide misinformation or incomplete data about ICD-10. Examples include unfortunate stories about ICD-10 specificity including "birds" and "water skis on fire."  I could, in the same sarcastic vein, argue that the healthcare industry would be better off if it remained paper based and we avoided electronic medical records because it would be easier for physicians who don't type.
Unfortunately, the general public reads these editorials without understanding why ICD-10 is so important to the future of the U.S. healthcare system.  Calls by these constituencies for Congressional hearings would further delay ICD-10 in a political, design by committee process that only costs taxpayers more money.  We should get on with it.
ICD-10 Discretionary Private Sector Incentive Payments
CMS should enable health plans to provide, at their discretion, incentives to providers who conform earlier to ICD-10 based claims (such as meeting earlier testing milestones, physician engagement, coder training, clearing house coordination etc.).  Allow health plans to deduct these incentive payments as part of the accounting for ICD-10.  Some health plans already do this today for non-Medicare providers to encourage adoption of EHRs where they would not otherwise enjoy incentives for Meaningful Use.  These health plans realized that even without incentives from the federal government, their non-Medicare / Medicaid providers would become more efficient and the cost of processing claims would be reduced because of the use of EMRs.
ICD-10 Assessments
Encourage employment opportunities by fostering a healthy economy around these regulations for ICD-10 Assessments that help position HIPAA Covered Entities to achieve the milestones.
Do Not Create a New ICD-10 Certification Program, Rather Leverage Existing Best Practices Guides
We do not recommend extending the date for ICD-10 beyond October 1, 2014 if the reason for doing so was to develop a certification program. Rather, we would suggest that CMS adopt the leading best practices time line and endorse it.  We suggest endorsement of an industry standard best practices schedule, such as the WEDI / NCHICA timeline, updated for an October 1, 2014 date.
ICD-10 Compliance Attestation Of Milestone Achievement
Give these entities a process to attest to having completed the milestones – some core and some menu based as in Meaningful Use.  Encourage mechanisms to use an ICD-10 Assessment and ICD-10 Attestation to map to tangible risk mitigation.
Risk Management and Reinsurance, Improved Access to Capital
Reinsurance may include the transfer by a first insurer of all or part of a risk to  second insurer to provide protection against the risk, as well as any associated transactions.  Without standards for determining risk of ICD-10 loss (reimbursement shifts), health plans and especially providers are potentially subject to catastrophic loss.  Insurance companies might be incentivized to re-insure against this risk as a viable business if policies could be underwritten.  A healthcare reinsurance administration system could encourage the ability to re-insure against risk for those HIPAA Covered Entities that follow the milestones and attest to their completion.
I wrote an article using CMS data and estimates of reimbursement risk, and compared the size of the potential shifts in reimbursements to the devaluation of mortgage assets. (See "Could ICD-10 have as big a financial impact as the mortgage crisis? Yes. Here's why [3]") Since most people in the U.S. understand on a personal level what the impact of the recession has been and the causes including the devaluation of mortgage backed securities, it is important to help people understand the financial impact of ICD-10.
Solid risk management principles suggest that HIPAA Covered Entities who are fastidious about ICD-10 implementations are lower risk businesses that should enjoy improved access to capital.  This provides a balance of penalties (both regulatory fines and the risk of providers not getting paid) and an opportunity to enjoy near-term financial benefits from ICD-10.  This gives CFOs and other executives a clear map between ICD-10 activities and ICD-10 risk as well as a risk management and mitigation strategy.
ICD-10 Implementation Milestones as Attestation Points
Develop a clear schedule of health care payor and provider specific milestones such as testing, security assessment, coder training, payor / provider coordination, clinical documentation improvement for providers, medical policy updates for health plans, etc.
Meaningful Use Mandate Compared to ICD-10
ONC communications regarding Meaningful Use provide clear milestones via core measures and objectives, and menu objectives with incentives as well as reimbursement reductions as penalties.   Thus, there is a road map for business, clinical, and other stakeholders in the healthcare economy to embrace electronic health records.  This has created a boom in employment and financial benefits[4] to EHR companies, and increased employment.  There are tangible benefits that both EHR software firms and consultants as well as health care providers can see, with a clear road map to access those benefits.  There are also excellent ONC publications on Myths and Facts about Meaningful Use, such as Version 1.1 022312 of the Guide to Privacy and Security of Health Information.
The benefits of ICD-10 are by comparison viewed by many as less tangible.  They are good for our health care economy and help with population health management, but unlike Meaningful Use there is a perception by many that ICD-10 provides neither a tangible near-term benefit to providers, nor a way to understand how to mitigate risk.  Health plans only have a tangible incentive of risk avoidance (potential fines) to implement ICD-10.
No other country in the world that has converted to ICD-10 required attestations and  incentives, however no other country in the world is using ICD-10 as a reimbursement paradigm as we will in the U.S.
Sarbanes Oxley Compared to ICD-10
I had the privilege to lead a Sarbanes Oxley (SOX) audit for a Fortune 100 corporation.  SOX was seen as an unfunded mandate like ICD-10 however there were clear attestation processes and definitions of Application Controls and General Controls fostered by the Public Company Accountability and Oversight Board (PCAOB) and COBIT (Control Objectives for Information and Related Technologies, first released in 1996). COBIT is "… an authoritative, up-to-date, international set of generally accepted information technology control objectives for day-to-day use by business managers, IT professionals and assurance professionals.". [1][5] This may sound similar to ICD-10.
PCAOB is a nonprofit corporation established by Congress to oversee the audits of public companies in order to protect the interests of investors and further the public interest in the preparation of informative, accurate and independent audit reports. The PCAOB also oversees the audits of broker-dealers, including compliance reports filed pursuant to federal securities laws, to promote investor protection and engages in Standards, Inspections, and Enforcement.
Everyone understood that SOX regulations were not to be trifled with, and there were not only clear mechanisms for attestation, but it was clear which company executives were accountable.   The ROI on SOX was essentially risk and regulatory action avoidance, although improved financial transparency was the aim. Importantly, well-run public companies always performed an internal SOX audit, working with their legal team and accounting firm prior to an external audit or attestation.
Parallels to Sarbanes Oxley, National Attestation Dashboard
1. ICD-10 Assessment and Education.
2. Milestones that provide clear opportunities for attestation points, published publicly to let the industry know which entities are in compliance at any given point.  Provide incentives, at the discretion of the HIPAA covered entity to publish attestation to a key ICD-10 milestone. Since ICD-10 applies to non-publicly traded companies unlike SOX, this would provide CMS with near real-time metrics in a public dashboard to know how well the industry is moving along with ICD-10 compliance.
3. Those companies that achieve SOX compliance are assumed to be lower risk and operating with greater financial transparency.  For ICD-10, these components could be used to improve eligibility to access capital from lenders for working capital or to reduce debt incurred to implement ICD-10.  Risk ratings could also be used for reinsurance by Errors and Omissions underwriters and other types of insurance firms businesses.
4. Chief Financial Officers who are currently reluctant to spend on ICD-10 would have a clear picture tying ICD-10 investment to ICD-10 compliance, risk avoidance, and access to greater financial incentives.
Require a Mandatory ICD-10 Testing Period
A testing period could help to remove some of the risk to the industry of a single ICD-10 compliance date with no read on whether the healthcare economy will function properly under ICD-10.  Encourage the use of social media and other mechanisms for payors and providers to coordinate testing and contracting during this period.
Misunderstandings About the Use of ICD-9 to ICD-10 Crosswalks
We disagree with public comments about the use of a National Crosswalk for ICD-10. Section 1104 of the Affordable Care Act calls for crosswalks.  However, AHIMA states that while the Centers for Medicare and Medicaid Services has developed crosswalks from ICD-9 volume 3 to ICD-10-PCS, they are not intended for direct use in coding[6].  One of the greatest lessons learned from the Canadian transition to ICD-10 was "…don't crosswalk…".    Healthcare professionals are understandably looking for a reference that is universal and helps answer complex questions.
We may look at historical precedents for a national crosswalk such as National Provider Identifier (NPI).
When the proposed rule naming the International Classification of Diseases, Tenth Edition (ICD-10) as the standard code set for coding diagnoses (ICD-10 CM) and inpatient procedures (ICD-10 PCS) was released in August 2008, one of the immediate responses from the industry was regarding crosswalks. The industry's response was understandable since the prior large-scale implementation of the National Provider Identifier (NPI) was met with the same response. Thus, a national standard crosswalk was born. But what is often overlooked is that the crosswalk solution for NPI was meant to be temporary. And more importantly, NPI involved the conversion of legacy provider numbers that were intelligent to provider numbers without intelligence. In short, the NPI experience was just that…the NPI experience [7]
Synergies with ONC Interoperability and ICD-10
The healthcare industry should embrace at a more rapid pace the use of Integration Platforms as a Service (IPaaS) that provide interoperability and knowledge about codes, diagnosis, and procedure information for continuity of care (CCDs) as part of the ONC CDA[8].
Support  Software Development Lifecycle (SDLC) Methods in ICD-10 Milestones and Business Process Maps

The healthcare industry has come to rely on complex software systems to administer their business, as well as complex regulations, which determine how the software must function.

Milestones such as:
– Define functional requirements (use cases, data, etc.)
– Prototype and design (user interfaces, training, etc.)
– Model (domain models, business process models)
– Implement and test (attest for both unit testing of a discrete process or system as well as end-to-end business testing wherein all HIPAA 5010 transactions applicable to the entity are tested under ICD-10)
– Encourage education and outreach on "as is" and "to be" standard disciplines for revising business and clinical documentation workflow and processes. These need to be overhauled in healthcare anyway.
Less Conversations about Crosswalks and Mappings and More Conversations About Mapping ICD-10 Activities to Jobs and a Healthy Open Market for IT Vendor Solutions
Many health care professionals who are not close to or do not understand diagnosis and procedure coding mis-understand or under-estimate the need for coders. Ensure that health plans may deduct these training costs as part of the accounting for ICD-10 and consider enabling health plans to partner with providers on training assistance expenses.
Embrace encoder and Computer Assisted Coding solutions and help the healthcare industry understand how these

complement the role of the coder.

Examine whether it makes sense going forward to have only one commercial company control all of the algorithms for DRGs and the access to the intellectual property for customizations to the DRGs for healthcare IT software vendors and consultants.
Thank you for considering our comments.  We would like to dialogue with you.
Sincerely,
Michael F. Arrigo
Managing Partner
No World Borders
---
!-- /.footnotes -->
[/fusion_builder_column][/fusion_builder_row][/fusion_builder_container]