New Federal healthcare industry payment models, based on the April 27th release of a proposed rule, present MIPS, MACRA, and APM methods for calculating healthcare reimbursement. The document proposes once in a generation changes in how healthcare providers are paid.  The Meaningful Use program is eight years old while the Medicare payment system is 25 years old.  What follows is a summary of the proposed rule as of May 2016.
 CMS and other industry leaders generally believe that 30% of healthcare spending is still wasted. Hence, these changes continue the effort to achieve efficiency in healthcare.
CMS Proposed Rule-making on MIPS and MACRA
According to the Centers for Medicare and Medicaid (CMS), "Medicare Access and CHIP Reauthorization Act of 2015 (MACRA) repeals the Medicare sustainable growth rate (SGR) methodology for updates to the physician fee schedule (PFS) and replaces it with a new Merit-based Incentive Payment System (MIPS) for MIPS eligible clinicians or groups under the PFS." This proposed rule would establish the MIPS, a new program for certain Medicare-enrolled practitioners.
MIPS would combine parts of three existing programs: the Physician Quality Reporting System (PQRS), the Physician Value- based Payment Modifier (VM), and the Medicare Electronic Health Record (EHR) Incentive Program for Eligible Professionals (EPs).
It would continue the focus on quality, resource use, and use of certified EHR technology (CEHRT) in a cohesive program. As a result, it leads to an avoidance of excess.
Additionally, this proposed rule would put in place incentives for participation in alternative payment models (APMs). Furthermore, it includes proposed criteria for use by the Physician-Focused Payment Model Technical Advisory Committee (PTAC) in making comments and recommendations on physician-focused payment models.  (See HHS)
The Quality Payment Program and HHS Goals
The Secretary announced new goals which include 30% of payments based on alternate payment models by end of 2016. Additionally, the goal is to have 50% of payment tied to value based models by 2018.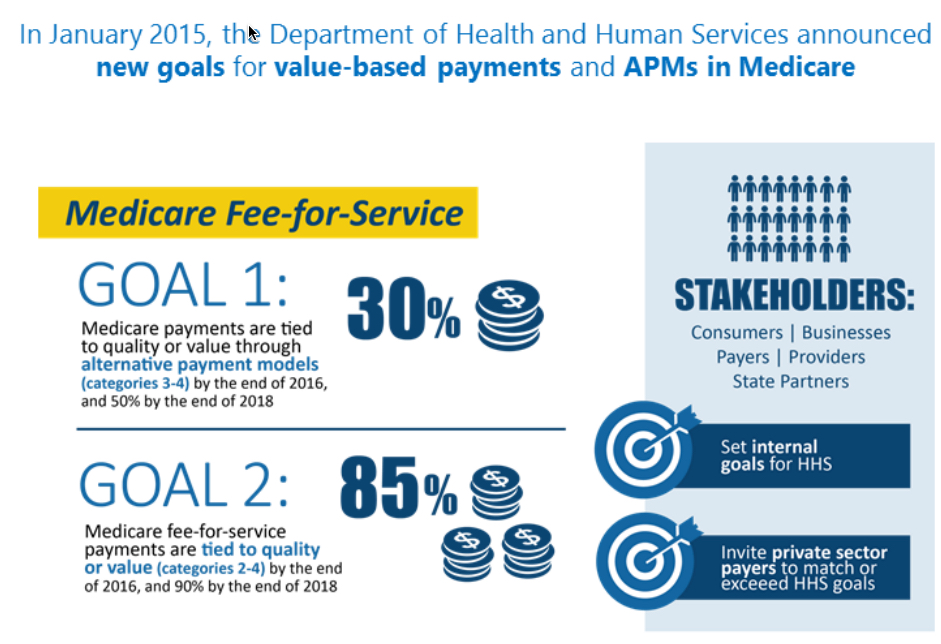 MIPS – Fresh Start for Value Based Care
The goal is to measure E.H.R. usage under care coordination.  The entry ticket to MIPS is that providers are a Meaningful User of Electronic Health Records.
Quality
Resource Usage
Clinical Practice Improvement
Advancing Care Information
Expanded Participation
In years 1 and 2:
MD and DO.
DMD and DDS.
Physicians Assistants.
Nurse Practitioners.
Nurse specialists.
Certified registered nurse anesthetists.
The program may be broader and include:
Physical or occupational therapists.
Speech language pathologists.
Audiologists.
Nurse midwives.
Clinical social workers.
Clinical psychologists
Dietitians and nutritional professionals.
Who is Excluded from MIPS?
First year Medicare Part B providers
Below low patient volume threshold of less than $10,000 and provides care for 100 or fewer Medicare patients in one year.
CMS Policy and Performance Category Weights – Determined by Statute
The prioritization of performance is shown in the graph below.  A MIPS Advancing Care Information Performance Category total score would be composed of:
Base score of 50 points for advancing care information
80 points for advancing care information performance
1 point for total advancing care information performance – bonus
Which equates to a composite score of 100 points or more possible
There is a proposal to end clinical decision support and clinical provider order entry (CPOE) goals, which are more basic measures of the current Meaningful Use program.  The new measures focus more on advanced usage of E.H.R. technology.
Risk Adjustment Mechanisms for Value Based Care – Stay Tuned
There are no firm commitments from CMS but we can expect changes to Risk Adjustment methods in the future.
The Affordable Care Act (ACA) provides for a program of risk adjustment in the individual and small group markets in 2014 while Marketplaces are put in place and new market reforms take effect. The purpose of risk adjustment is to lessen or end the influence of risk selection on the premiums that plans charge.
Related Posts