ICD-10 consulting firms appear to be focusing on what they believe is the low hanging fruit – ICD-10 IT remediation and ICD-10 training.
Never mind that only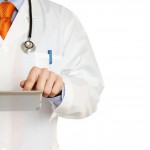 about 30% of the ICD-10 transition relates to IT.   ICD-10 clinical documentation and physician engagement is the most important component of any health care providers ICD-10 plan.   And, most firms don't understand how to do it.
First of all, a classic CDI approach is bound to fail if it isn't sponsored by, or better yet managed or led by a physician.   There are few physicians in the U.S. that understand both how to deliver care and how to code it.  Having both a clinician and coding background gives one a unique perspective on the ICD-10 clinical documentation effort required to ensure that unspecified codes are minimized, specialty based documentation supports the ICD-10 codes, and that the high-impact specialties such as Orthopedics, OB, Cardiovascular surgery are adequately prepared for ICD-10.  Some ICD-10 consultants simply use templates.  ICD-10 consulting has led to some long, boilerplate proposals by ICD-10 consulting firms that have technical and training staff but don't understand the finer art of documentation.  Clinical, technical, analytic perspectives are rare and needed to perform this type of engagement and do it well.
ICD-10 Consulting for health care providers should include clinical documentation that is prioritized via analytics that can look retrospectively at ICD-9 CM and ICD-9 procedure codes to see how the DRGs and documentation of medical necessity are working today. Other criteria such as unspecified codes, mapping risk, denials, volume, dollar value, specialty, service line, provider, disease categories are also considered in the review.
ICD-10 Consulting can be most valuable when one can help clinicians understand why better documentation is in their best interests, the best interests of the patient, and the best interests of the health care organization.  Once physicians realize that ICD-10 clinical documentation is their most important job with respect to the ICD-10 transition, they can let the coders do their job.  With the advent of Computerized Physician Order Entry (CPOE) and meaningful use of electronic health records, problem lists can be used to help, though by themselves problem lists don't fully address the physician documentation issue.
ICD-10 consulting firms that don't understand how to engage physicians are likely to be less effective.
Related Posts